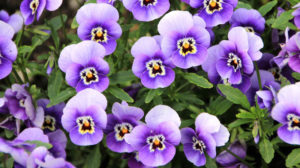 Violas and Pansies are wonderful winter annuals that enjoy a popular following in the in our area because they can be planted in the fall or winter and enjoyed into May until the weather warms. Very few flowers will perform this well, especially right through winter.
Famous for their cute faces Pansies and Violas come in colors from violet hues to blue, yellow, orange; often flowers are a mixture of contrasting colors. Violas have small flowers, (less than 1″) Pansies large, (up to 2″).
Plant them about 6″ apart in well-prepared soil enriched with Bumper Crop. Plant in full sun and keep them moist if the rains are infrequent. Pansies are relatively pest free, but use Sluggo-Plus to protect against snails, sowbugs, and earwigs.
We plant ours in the ground or in containers (with Master's Pride Potting Soil) and we fertilize with EB Stone Sure Start to get them going. Later we will follow up with a feeding of Super-Bloom about every 2 weeks to keep them in glorious flower.
Try them in hanging baskets where they will cascade down the sides.  Mix them with herbs; the flowers are edible!