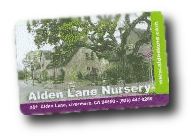 People love receiving Alden Lane Gift Cards because they always fit, are always the right color and they are always in style.  A lucky recipient can spend it any way they wish.  Make someone smile – order a card online and we will send it directly to them, or we can send it to you so you can deliver it in person.
We can mail a card directly to the recipient of your choice.  We make it look nice, slip it inside a gift envelope with a greeting card, and send it off within a larger mailing envelope.
We offer gift cards in several denominations, from $25 to $250.
To the price of each card, we add $1.50 for shipping/delivery processing.
You are also welcome to purchase a gift card by phone by calling us during business hours at (925) 447-0280