Alden Lane Nursery is situated within a grove of centuries-old-oak trees. The setting, combined with a vast selection of plants and friendly customer service makes Alden Lane a unique destination garden center.
Come and visit Alden Lane Nursery for an extensive selection of trees, flowers, perennials, shrubs, garden accessories, indoor plants and orchids and support materials. We employ friendly and helpful staff with years and years of horticultural experience ready to offer ideas and assistance.
Alden Lane serves as host to many community events each year including shows, festivals, classes, and meetings. See our event page and classes page for upcoming activities.
Follow us on Instagram https://www.instagram.com/aldenlanenursery/
---
Upcoming Classes
Pruning Demonstrations — Alden Lane Nursery
Please call ahead to reserve a seat for these FREE informative classes.
Saturday, December 9th and Sunday, December 10th from 1-2:30 p.m. for PRUNING BASICS CLASS with our own Jacquie Williams­ Courtright. Learn the basics to shape deciduous trees and shrubs, prune fruit trees properly, or get any of your own pruning questions answered.
Join us on Saturday, January 13th for our ever popular ROSE CARE & PRUNING SEMINAR led by the Mt. Diablo Rose Society from 10 – 11:30 a.m.; and by Gerry, Alden Lane staff member, on Saturday, January 20th from 10:00 – 11:00 a.m. They will cover proper pruning techniques, feeding, and general care. Call (925) 447-0280 for more information.
Saturday, January 20th from 1:00 – 2:00 p.m. GRAPE PRUNING with expert, Jim Ryan.
Sunday, January 28th from 1:00 – 2:30 p.m. for the last ­PRUNING BASICS CLASS. Learn the basics to shape deciduous trees and shrubs, prune fruit trees ­properly, or get any of your own pruning questions answered.
Crafternoon – Join us each Month – Craft Workshop!
Crafternoons are a chance to access your inner artist once a month at Alden Lane! It is an opportunity to get together and create something amazing and have a bunch of fun doing it. Even better- invite a couple of friends to do it with you! These make and take projects don't require any special skills, and kids from 12 to 112 can do them (although younger kids could do it with the help of an adult). Pick one project (or more!) and pre-pay with our Alden Lane Cashiers to reserve your space, as the classes fill up fast. (925)447-0280. If we don't have 8 sign-ups by the Wednesday before the Saturday class, the class will be canceled, so register as soon as possible. Let's have FUN!
---
Make A Felted Stocking Ornament
With Us!
Saturday, December 16, 1:30 – 3:00 p.m.
We love this needle felting! No sewing involved! This addicting craft is one you will want to explore, as the possibilities are endless. Ruth will teach us this simple and rewarding felted Holiday Stocking that will look great incorporated into your festive décor. The cost for this class is $24.00 plus tax and includes materials and instruction. Reserve your space by Dec. 13th with our cashiers at Alden Lane
---
Passport to Spring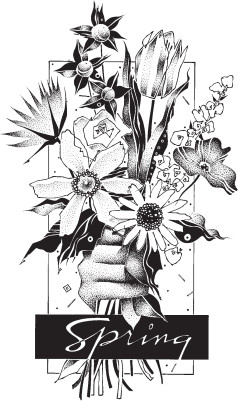 Save the date!
Mark your calendars for February 10th from 9:00 a.m. to 1:00 p.m. as we celebrate the emerging Spring Season. Re-energize your weary garden spaces by attending a morning of super seminars designed to help you see your garden in a fresh new light.
We will start your day with a "wake up coffee" followed by three seminars and a scrumptious lunch to help you digest all the great information you have received.
There will also be fun door prizes, free garden demos, and a 20% OFF Coupon to use that day for each paid ticket.
Specific speakers will be announced in coming weeks.
---
Quilting class with Alex Anderson
Improvisational 3 Day Play Date With Alex Anderson
Mar 9-11, 2018, 9am to 4pm – $329 includes lunch each day
Join Alex for a fun improvisational long weekend
In this class, you will construct a small art piece as you set aside the traditional rules of quilt making. You will learn freeform piecing techniques and various approaches to machine appliqué. We will also discuss straight-line quilting. You will stretch your creative muscles in ways you have never expected,  learn more here.
---