March 3rd and 4th – 2018
Co-sponsored by the Northern California Daffodil Society &
Alden Lane Nursery
A daffodil or two can be seen poking their heads up around town, and the earliest narcissus are already blooming in Tri-Valley gardens. That means the Northern California Daffodil Society Daffodil Show is just around the corner.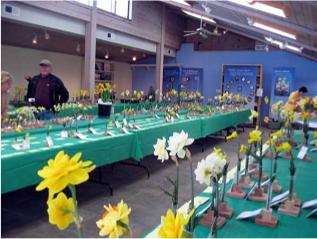 This year the show is March 3rd & 4th and will be the 48th annual show.
Groom those blooms to enter on Saturday morning, March 3rd.
Enjoy the show on Saturday, 1:00 to 5:00 p.m. & Sunday, 9:00 a.m. to 4:00 p.m
Prepare to be Wowed
Get a glimpse into the world of daffodils. Our local show participants are keenly interested in miniatures and seem to focus a lot of effort there, so recent shows have been remarkable in the number of miniature daffodils displayed and the wide range of both colors and forms.
Twice in recent years, it was stated, the show has been an assemblage of the most miniature daffodils on display at one time in one place than any other place on the planet.
Many show participants are hybridizers and come from as far away as Southern California and Oregon. They are slowly pushing the envelope of available colors toward pink and blue flowers. Some specimens are so new or so rare, only few, or even just one blooming example exist in the world.
If all this sounds too technical and sophisticated, fear not, the general public is encouraged to participate. Entries by new exhibitors are met with giddy enthusiasm.
Entries are welcome! Bring a bunch of blooming stems, and address labels to speed the process. Experienced participants will assist your entry into this exciting hobby. You can even exhibit potted blooming daffodils and cut flower arrangements.
Learn more about the Northern California Daffodil Society here.