Plant a bumper crop of winter veggies now and start seeds indoors for tomatoes, peppers and other summer veggies.
This week is special in that we enter the window of time for starting tomatoes, peppers and other vegetables for setting out into the garden later.  You can also set out starter plants for a second, bumper crop of cool season crops.
Peas, broccoli, onions, and cauliflower set out now can squeeze in a productive run before temperatures rise in June.  Cool season crops, such as these are often planted in September and October for harvest now, but planting now allows you to work in a crop for later spring harvest. This can even out your garden harvest before summer veggies begin to fruit.
Snap peas are great for a quick, sweet snack.  Plant a couple for snacking or plant a 10′ row for meal-size harvests.
Cauliflower comes in hues including orange and white, Broccoli is in stock in green and chartreuse; try something new!
Summer Vegetable Seed Starting
Now is the time to start seeds indoors for tomatoes, peppers, and eggplants. wee have seeds, seedling trays, seed starting mix, and heat mats to get you going.
Here is an example of the highly informative Botanical Interests Seed packet:
Hungarian Yellow Wax Pepper – Capsicum annuum
Organic HEIRLOOM Seeds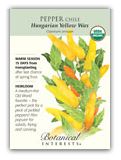 75 days from transplanting. Developed in Hungary, this early-maturing pepper has a waxy texture that resembles beeswax. Wax peppers are actually orange-red when ripe but are usually picked while still yellow. Great used fresh in salads, pickled, fried, canned, or roasted. 4,500–5,000 Scoville heat units (medium hot).
This packet sows up to 24 plants when started indoors.
When to sow outside: For mild climates only: 2 to 4 weeks after average last frost, when soil temperature is at least 70°F [Warm enough for Sun Bathing].
When to start inside: RECOMMENDED. 8 to 10 weeks before transplanting. Ideal soil temperature for germination is 70°‒90°F. Transplant seedlings outside 2 to 4 weeks after average last frost, and when daytime temperatures are at least 70°F, and nighttime temperatures are at least 55°F. Mild Climates: Also sow in late summer for fall/winter crop.
Harvesting: Harvest when 3″–5″ long or longer and when peppers are yellow or orange-red. Even though Hungarian yellows are usually harvested yellow, they will ripen to orange-red if left on the vine. When harvesting, take care to avoid touching the interior of any broken peppers, as the capsaicin is an extreme irritant, especially to the eyes. Wash hands thoroughly after harvesting, or wear gloves to harvest peppers.
Artist: Pat Fostvedt