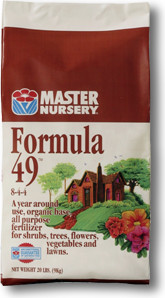 Feed! Feed! Feed! It's time to refresh your garden plants. Fertilize all of your plants to support spring growth. For landscape shrubs and trees feed with Master's Formula 49 All Purpose Plant Food. If you have citrus or avocado trees, use Master's Citrus Food. This is a good time to start feeding fruit trees, grapes, and berries. We recommend Master's Fruit Tree & Vine Food for the nutrition your plants need to produce the best crop ever! Your roses will appreciate a monthly feeding of Master's Rose & Flower Food.

Prune azaleas and camellias into shape after their blooms have faded. Feed them with Master's Camellia, Azalea and Gardenia Food and Iron Plus monthly through October.

Place Yellow Jacket Traps out early this month to catch the queen before she starts her family. Prevention is the best cure!

Give your lawn "a meal – not a snack" with Master Green Lawn Food.

This is a good time to think about lawn renovation.

Now is the time to set out snail bait. Use Sluggo and Sluggo Plus for organic snail and slug control.

Remember to water plants under eaves and in containers.

Plant your potatoes on St. Patrick's Day if you haven't got them in the ground. See us for instructions and best varieties.

Start annual morning glories from seed this month and establish them in the garden or a pot by summer! Morning glories are one of the most stunning of the old-fashioned garden flowers. Flowers are huge – three to five inches across – and bright, colorful blue, purple or pink. Best of all, morning glories are easy!

Combat Citrus leafminer organically. Hang traps in your citrus to catch the flying adult. This will greatly reduce damage to any new growth of your lemons, oranges and other citrus. Supplementally spray with Captain Jack's to minimize infestation.