Improvisational 3-Day Play Date
March 9-11, 2018, 9am to 4pm
$329 includes lunch each day
Join Alex for a fun improvisational long weekend
In this class, you will construct a small art piece as you set aside the traditional rules of quilt making.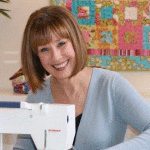 You will learn freeform piecing techniques and various approaches to machine appliqué.
We will also discuss straight-line quilting. You will stretch your creative muscles in ways you have never expected.
Open your heart and mind as we bust the "quilt police'.
Call Alden Lane Nursery today to register for this class, (925) 447-0280.  Ask for Cyndee, Ruth, Carole or Carina.
See you in March!