Pruning Demonstrations — Alden Lane Nursery
Join us on Saturday, January 20th for our ever popular ROSE CARE & PRUNING SEMINAR led by Gerry, Alden Lane staff member, on Saturday, January 20th from 10:00 – 11:00 a.m. Gerry will cover proper pruning techniques, feeding, and general care. Call (925) 447-0280 for more information.
Saturday, January 20th from 1:00 – 2:00 p.m. GRAPE PRUNING with expert, Jim Ryan.
Sunday, January 28th from 1:00 – 2:30 p.m. for the last ­PRUNING BASICS CLASS. Learn the basics to shape deciduous trees and shrubs, prune fruit trees ­properly, or get any of your own pruning questions answered.
Get your Maples Ready for Spring!
Join Japanese Maple expert Barry Hoffer on Saturday, February 24th from 1-2:30 p.m.  He will discuss proper pruning, in-ground and container planting, along with root pruning. There's something for everyone. The cost is $5.00 per person. Call (925) 447-0280 to reserve your spot in the information packed class.
Crafternoon – Join us each Month – Craft Workshop!
Crafternoons are a chance to access your inner artist once a month at Alden Lane! They are an opportunity to get together and create something amazing and have a bunch of fun doing it. Even better- invite a couple of friends to do it with you! These make and take projects don't require any special skills, and kids from 12 to 112 can do them (although younger kids could do it with the help of an adult). Pick one project (or more!) and pre-pay with our Alden Lane Cashiers to reserve your space, as the classes fill up fast. (925)447-0280. If we don't have 8 sign-ups by the Wednesday before the Saturday class, the class will be canceled, so register as soon as possible. Let's have FUN!
---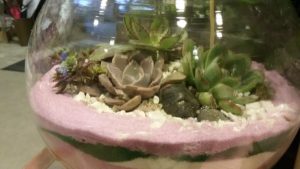 Sand and Succulents!
Saturday, January 27th  1:30 to 3pm
Our next project is one you are sure to love- a succulent terrarium bursting with our latest batch of 3 darling, low-growing, soft-hued succulents in an 8" glass bowl paired with a base of colorful waves of poured sand and rocks. Perfect for a sunny window and very low maintenance.  Don't miss this chance to create this one of a kind beauty! Our sample is displayed at our Information Counter. The cost is $39.00 plus tax. Please sign up with our cashiers (925)447-0280 by Wed. Jan 24 to reserve your spot. Prepayment is required.
---
Passport to Spring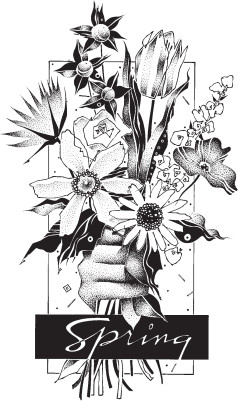 Save the date!
Mark your calendars for February 10th from 9:00 a.m. to 1:00 p.m. as we celebrate the emerging Spring Season. Re-energize your weary garden spaces by attending a morning of super seminars designed to help you see your garden in a fresh new light.
We will start your day with a "wake up coffee" followed by three seminars and a scrumptious lunch to help you digest all the great information you have received.
There will also be fun door prizes, free garden demos, and a 20% OFF Coupon to use that day for each paid ticket.
---
Quilting class with Alex Anderson
Improvisational 3 Day Play Date With Alex Anderson
Mar 9-11, 2018, 9am to 4pm – $329 includes lunch each day
Join Alex for a fun improvisational long weekend
In this class, you will construct a small art piece as you set aside the traditional rules of quilt making. You will learn freeform piecing techniques and various approaches to machine appliqué. We will also discuss straight-line quilting. You will stretch your creative muscles in ways you have never expected,  learn more here.
---