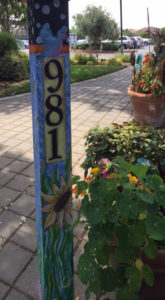 Come & Make – TOTEM ART POLES
Welcome to the World of Totems! at Alden Lane Nursery
Saturday, July 22nd 1 to 3 pm – Saturday, July 29th 1 to 3 pm
What a lovely way to make a statement in your garden!
Can you envision this as an art piece, a welcome sign, an address pole, a birdhouse or mailbox pole, or top it off with a birdfeeder– the possibilities are only limited by your imagination.
These Totems are also known as "Peace Poles", with all kinds of sentiments or statements, or just works of art on their own.
Register by July 19th and join us July 22 and 29. You will receive a primed 4' 4×4 redwood post with a pre-drilled hole at the bottom for rebar, a redwood cap, and all the instruction and materials you need to create something fabulous.
You can freehand your artistic expression or bring a stencil or two, or use ours. We have an instruction sheet to go home with you when you sign up (or we can email it to you) that will tell you what to bring with you and suggestions for great results! The class fee is $48.00 plus tax
Please sign up with our Alden Lane Cashiers by July 19th to reserve your space
(925) 447-0280
Alden Lane Nursery
981 Alden Lane, Livermore, CA 94550 – www.aldenlane.com
This form of Garden Art is also called "Peace Poles", reflecting the message you choose to put on them. If you look up Peace Poles on Pinterest, you can see a variety of styles as well as ideas for decoration that might be helpful in deciding colors and artwork.You will receive a 4×4"
You will receive a 4×4" 4-foot tall primed redwood pole with a hole drilled for a rebar spike. When you take it home there are several ways you can "plant" it. Pound the rebar in with a hammer and plant it in the ground. For a more permanent solution, pound the rebar in, dig a hole, pour post cement, level the post and cement it in the ground. If you want to move it around, do not put the rebar in, but nail a 1" thick board (8×8" or 10×10") to the bottom of the post so it stands up by itself. They come with a redwood "cap".
I've seen them used as a mailbox post, posts for birdhouses, garden art, address posts, posts with hooks to hang garden tools, gloves, etc. Let your imagination go wild. They make great personalized gifts, too!
Artwork
You can get as detailed or simple as you want. We will have lots of paints on hand, but if you would, for instance, want a certain color (maybe your house paint color?), bring it with you, preferably a matte or flat paint (no oil-based paints), whatever you bring with you needs to be an acrylic, water-based paint. Interior or exterior, both are fine.
It is very helpful to come with an idea in mind or even a drawing or stencil that you want to use.
Please see the back of this sheet for my idea drawing for my address post, and you will see what I mean We will have some stencils available, as well as stencil brushes and paint brushes.
You can get as detailed or as simple as you want, but each detail will take lots of time. My first post took me about 6 hours to paint, but I did do too much shading and the like, and I should have stuck to a more simplified post. If you are a freestyle type of painter-Great! The lettering does not have to be perfect, and neither does the style of art. Look at the ones on the internet- they are fun, colorful, and get a simple message across without being too fussy or perfect.
Please bring with you:
• See thru ruler
• Any special color paint (acrylic) ie: house paint, custom color paint in a certain shade
• Any special stencil you want for your artwork
Before you put your piece on display, you must finish it off with a UV protected sealer, such as Spar Varnish or Varathane, which comes in a semi-gloss or glossy finish, in a spray can or brush-on.