Better than Farm Fresh – Tree Ripened Fruit From Your Own Garden!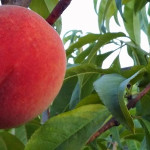 For years Alden Lane Nursery has worked with Dave Wilson Nursery to purchase the best varieties of fruit trees, berries, and grapes for the Tri-Valley area. There's nothing like the taste of fresh peach plucked from your own tree – warm, juicy and sweet or a warm, fragrant slice of apple pie made with apples from a tree you planted and nourished while it grew.
Check with us at Alden Lane for the right varieties for your home orchard. We're all about home orchard culture that is different from commercial ventures. It's about having fruit in the garden throughout the summer and fall seasons because you've planted varieties that produce one right after the other. It's about taking advantage of the space you have to plant and recommending espaliers, four trees in one hole, hedgerows or whatever it takes to bring you the rewards of the best experience you've ever had plucking an apricot from your own tree and melting into the sweet taste. Ahhhh, now that's heaven!!
Order 2018 Fruit Trees now for Best Selection and 20% Off
Now is the time to pre-order your fruit trees for arrival in mid-January of 2018.
Pre-orders can be placed anytime from now through November 5th, 2017.
Download a copy of our Special Order Fruit Tree List here.
This list goes beyond what we will carry to include the opportunity to order across our grower's entire collection.
Download our 2018 Fruit Tree normal-stock collection
These trees and vines comprise our normal, in-stock collection for 2018, expected to arrive in January 2018.
Plants can be ordered from either list with the exception of those that are multi-grafted or espaliered.