Here are a few of our favorite perennials that provide color over a long season.  These are relatively easy to grow and last to bloom again in future years.  Now is a great time to plant them because the selection is high and the weather is still fairly mild.
Beard Tongue (Penstemon sp.)
Elegant and reliable perennials; valued by gardeners for their spires of foxglove-like flowers. Outstanding color varieties make it difficult to choose just one. Hummingbirds aren't choosy, they like them all. They will perform all summer with regular deadheading, full sun & good garden soil.
---
Gaura Lindheimeri
Gaura means "superb" and it really is. Imagine tall, loose wands of pinkish white stars, dancing on the wind. From spring to fall, this plant will flourish on a hot, dry slope, and in many other water-restricted sites. Blended with other perennials, it serves as a softening element for brighter colors. Give it a full season to establish. Choose 'Passionate Rainbow,' 'Ballerina White,' and others.
---
Lavender (Otto Quast, English, and French)
These heat-of-summer bloomers produce fragrant flower spikes that you'll love. Their lavender blue flowers are great for dry arrangements, sachets, or they may be made into aromatic stove-top potpourri simply by boiling. Cool the water, strain; use as a counter-top cleaner. Different varieties range in height from 18″ to 3′ with an equal spread. Best selections are 'Hidcote,' 'Munstead,' 'Dentata candicans', and Spanish varieties. Well-drained soil is essential.
---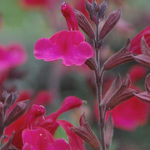 Salvia Greggii
Known as Autumn Sage, they are available in a number of flower colors – red, yellow, pink, white and purple. Erect growth to about three feet with medium green foliage. Blooms for much of the season, spring through fall. Plant in full sun.
---
Yarrow (Achillea millefolium)
Evergreen Perennial usually in the range of 18″ high, creating a spreading mat much of the year, then stretching to full height when it blooms with white, cream, pink red or yellow "landing pads". butterflies love them and so do ladybugs!
---
Russian Sage (Perovski atriplicifolia)
Once you grow this, you'll understand why it was voted 1995's Perennial of the Year. It remains a true favorite, flowering from July into fall with no grooming. There are no significant pest or disease problems, probably due to its fragrant silver foliage. It grows to 3′ and looks spectacular when mass planted with yellow daylilies.
---
Santa Barbara Daisy
One of the easiest daisies to grow, and very water-wise.  Adds a sparkle to the flower garden, usually grows about 12″ high and 18″ wide. Blooms heavily in spring and then moderately through the warm season.