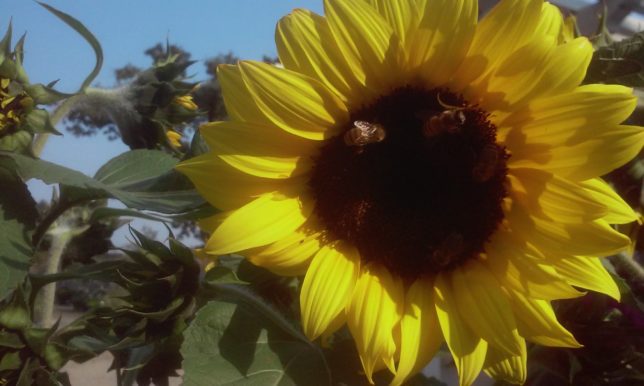 Sunflowers are ready for planting from 4″ starts or from seed.
We have several varieties to choose from with a range of heights and colors.   Sunflowers provide a bright smile to the back of the flower bed. Plant the tallest types from seed – Russian Mammoth or Grey-stripe is an overall favorite.
Our greatest selection in 4″ pots include multi-branching varieties that can keep blooming through the summer, especially if spent flower heads are removed.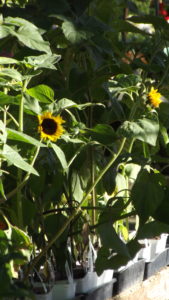 Excellent planted in groups at the back of a border or along a fence. Great cut flower or leave on the plant to mature for winter bird feed.
Plant sunflowers in organic-rich, well-drained soil in full sun.
Here are some of our 4″ varieties on sale now.
Starburst Panache
Height is 5′ – Space at 12-18″ 4-5″ blooms with brown centers surrounded by a full mane.
An ideal choice for cutting gardens.
Orange Hobbit
Very unique, this sunflower forms a knee-high matt of intensely orange sunflowers on a compact, highly branched plant.
Butter Chiffon
Grows about chest high with many branches producing buttery colored, pollenless flowers. Very light lemony petals on plant that reachs about 4′
Country Roads
Orange flowers on strong branches; ideal for small bouquets… This one is early to flower and pollen free. Height is about 4′
Orange Mahogany Bicolor
Height is 5-8′ – Plant 18" apart
Beautiful orange-tipped petals are brown toward the center
Ring of Fire
Height is 4' – Plant 18-24" apart
Glorious yellow disks rimmed with mahogany.