With Fall officially rolling in this month on the calendar (though maybe not on the thermometer), it's time to design and plant your cool season garden!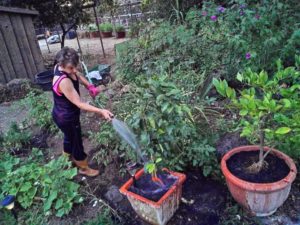 Your wheelbarrow is brimming with starts and seeds for broccoli, cauliflower, beets, carrots, green leafy lettuces, kale, chard, cabbage, snow peas, snap peas, and mustards. Now what? Take a moment to envision how and where you can enhance your landscape by sowing this bounty.
Welcome
Create a welcoming entry statement in your garden with a small gate or pergola. This marks your garden as a special "place".
Layout your crops with an eye for pattern. Plant colorful lettuces in a square instead of straight rows. Use cabbages to punctuate the corners. Border them with herbs or annuals – why not edible annual flowers like violas or nasturtiums? Or try a dynamic arrangement of diagonals or chevron patterns to lead your eye through the garden.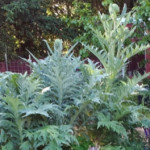 Add exclamation marks to the center of your plantings. Taller flowering herbs like dill or fennel or yarrow can give you some height while attracting all important pollinators. Or use a decorative structure such as a painted tee pee, a wire obelisk, colorful tomato cage or ornate trellis, or an Artichoke!
Plan tidy pathways made of bark or gravel to surround and organize your beds. No water use here. Put a couple of layers of overlapping cardboard underneath to keep down weeds.
Subdivide the interior space of large beds with an arrangement of stepping stones. Alden Lane has a beautiful collection of natural slate stepping stones.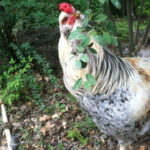 Please protect your young tender seedlings from our still high temperatures with frequent watering and some shade during the hottest part of the day. Enrich your soil before planting with G & B Organic compost and Sure Start organic fertilizer.
Weren't the Pluots heavenly this year? Don't forget the after harvest fruit tree feeding. A good deep soak (15 gallons of water) followed by fertilizing with Master's Fruit Tree fertilizer promotes vitality during the spring flowering and fruit set season. Add a shovelful of worm castings or chicken manure around each tree to condition the soil.