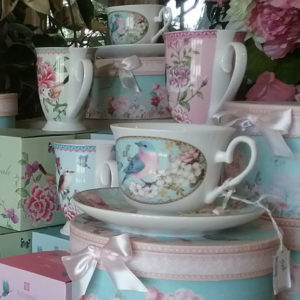 We have sourced all kinds of new gift items Mom will love!
Beautiful tea and coffee mugs are here in herbal lavender prints and bird images in many colors.
Happy Wax Melts are brand new and come in heart and darling teddy bear shapes. Use in a wax warmer to scent your entire room. The fragrances are delightful and come in many different scents including Sweet Pea, Lilac, and Hydrangea.
Also, brand new are Spongelle fragrance infused sponges. They are designed to moisturize and rejuvenate the skin, from neck to toe and can be used for many washes. Bulgarian Rose, Coconut Verbena, and French Lavender can be found in our gift shop!
You'll find wonderful Wall Art pieces from suns to geckos to sea turtles! Made out of metal and painted with UV resistant paints, you can add a colorful accent to a garden fence or wall.
We have new scarves and garden hats that make great gifts too! Ruthie's Room is fully stocked with gift items and houseplants. Come in to see what's new and we will wrap your gift compliments of Alden Lane!