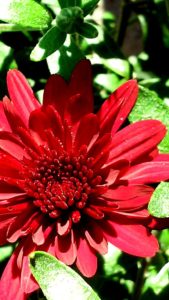 If there is one flower that really lets us know it's autumn – it's the Chrysanthemum or Mum! Richly colored and aromatic, the chrysanthemum comes in a dazzling array of colors. Choose from white, orange, yellow, bronze, maroon, purple, and pink.
Mums are perennial plants often blooming in both spring and fall. They appreciate average water and good drainage.
Pop some color into a bed or container to set the stage for autumn. Add Soil Moist Granules to cut watering in half.
We are carrying fresh 4″ pots, each is loaded with blooms just beginning its bloom cycle. Remember to remove dead flower heads to force more flower production. Don't overhead water because this encourages blossom rot.