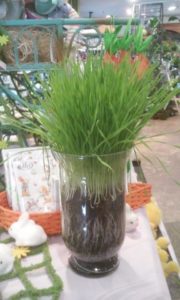 We have wheat seed and annual rye grass seed, perfect for growing an instant Easter egg nest in pots, bowls, vases, and baskets.
Simply fill a container 2/3 full with soil, sprinkle with seed and press seeds firmly against the soil.
Water and watch it grow! Wheat seed germinates in 3-4 days, annual rye in 7-10 days . . . in time for Easter on April 16th and spring decorating.