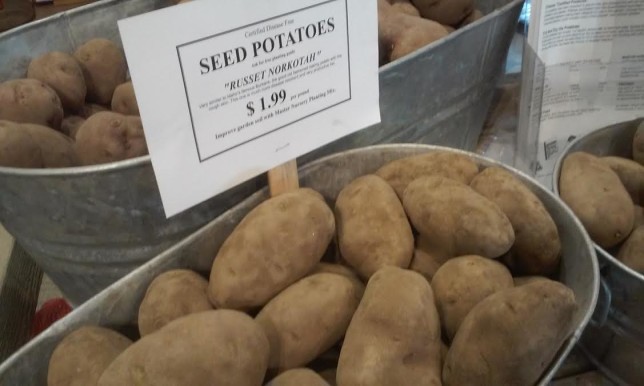 Potatoes have arrived. Why not give your taste buds a treat by growing your own. They taste remarkably better fresh and growing them is easy; winter rains and colder temperatures take care of them for much of the season, and when harvest time comes they taste far superior to store bought.  Our most popular varieties, as well as specialty spuds, are in stock now.
Here is our Collection.
Colorado Rose
Bred for early, large yields. Beautiful oval tubers with white firm flesh, good for salads or roasting.
Russian Banana
3-4″ long and an inch in diameter, Russian Fingerling potatoes mature in 3-4 months from planting.
Kennebec
One of the most popular and high-yielding potatoes grown.
Adirondack Blue Potato
Tasty purple flesh with bluish skin. Good tasting roasted.
NORKOTA RUSSET (Coming Later this week)
Very similar to Idaho's famous Burbank. The good old-fashioned baking potato with the rough skin. This one is much more disease resistant than the Burbank and very productive too.
YUKON GOLD (Coming Later this week)
This is an early potato that matures in 65+ days. Buttery yellow flesh is delicious. Variety makes a good steamer/boiler or use in salads.
Purple Viking
An improved variety with white flesh and russeted, patterned, purple skin.
Planting Tips
Preparing the Soil
Like most garden vegetables, potatoes prefer loose well-drained soil. We need to lighten our heavy clay soils by mixing at least 3″ of MASTER NURSERY PLANTING MIX into the top 6″-12″ of soil; you'll need three bags for every 50 square feet of planting area. Also, incorporate two pounds of MASTER NURSERY 0-10-10 to encourage root and stem growth, and two pounds Iron Sulfate to buffer the soil pH.
Choose "Certified Potatoes"
Our potatoes have been inspected to assure they are disease-free and are ready to be planted in your garden. Choose from our improved selection which includes many of the popular new colored varieties.
Cut and Dry the Potatoes
Cut the potatoes into chunks 1 ½" square with at least two eyes. Spread them in a single layer (cut side up) and allow to air dry at least overnight. Cut surfaces are dry to the touch. The air-dried cut pieces are less likely to rot in the cool, wet soil. Dusting with sulfur before planting will further decrease the chance of disease infection.
Plant
Form rows that are 4″ deep and 2′ apart. Set the seed potato pieces in rows, cut side down, 12″ – 18″ apart. Do not plant if the soil is very wet, but be sure to water thoroughly after planting. Or plant in our fabric bags. Fabric bags are great to grow in, and harvesting is easy.
Hilling Up
The potatoes will form above, not below, the planted pieces. When the plants reach 5″ – 6″ tall, draw up loose soil (or a soil/straw mix) around the plants so that only 2″ of the stem is exposed. Hill soil up again in 2-3 weeks. Hilling up gives the potatoes a light soil to expand into as they grow.
Water & Feed
After growth begins, give the plants regular deep watering (once per week). Feed potatoes monthly with MASTER NURSERY TOMATO AND VEGETABLE FOOD, a balanced fertilizer. This along with the MASTER NURSERY 0-10-I0 and Iron Sulfate incorporated at planting completes the nutritional requirements.
Harvest
Dig early or "new" potatoes when plant tops begin to flower, dig mature potatoes when tops die down. Dig carefully to avoid bruising or cutting them. Store in a dark place at approximately 40 degrees.
As always, check with one of our staff members if you have any further questions.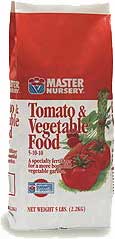 What you will need:


Master Nursery Planting Mix


Master Nursery Tomato & Vegetable Food

Master Nursery 0-10-10

Iron Sulfate