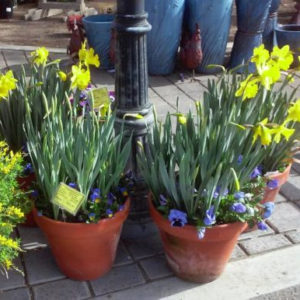 With the weather cooling, it's time to plant bulbs. We plant buckets, pots, and baskets in November for spring color. We have discovered a few tips that make the process successful and enjoyable.
A bigger pot is a better pot, we prefer a pot 14″ wide and at least 12″ deep.
Simple containers are filled entirely with one type of bulb while elaborate containers are stuffed full with a variety of different bulbs scheduled to bloom at different times.
Inspired by a visit to Filoli gardens in Woodside, across the bay, we will often plant up pots full of a single color tulip. Tulips are selected and then refrigerated for at least 6 weeks and remain in the fridge until the outside temperatures drop. Planting a single variety in a pot makes the biggest splash as they all bloom at the same time, subsequent pots can be planted and ready to pull into view as the earliest bloom and fade and the new ones reach their prime. Fill pots with potting soil and plant the tulips 3-4″ deep. And space them so there is about an inch of soil between them (regular bulb spacing does not apply when planting in containers). Water and keep in a cool spot till leaves fully emerge` then grow them out in a brighter spot.
Daffodils can be grown the same way as tulips, but they need to be planted deeper. As a rule of thumb, bulbs are planted 2-3 times the diameter of the bulbs, (for some daffodils that can be 5 to 7 inches deep).
For a really enjoyable project, try layering bulbs in a deep pot. If you have a deep pot, at least 14″, you can have three layers of bulbs plus a layer of violas or pansies overhead. Choose from the following alternatives:
Bottom layer. Daffodils
Middle layer: Tulips, Hyacinth, Miniature Daffodils
Top layer: Crocus, Muscari, Freesia